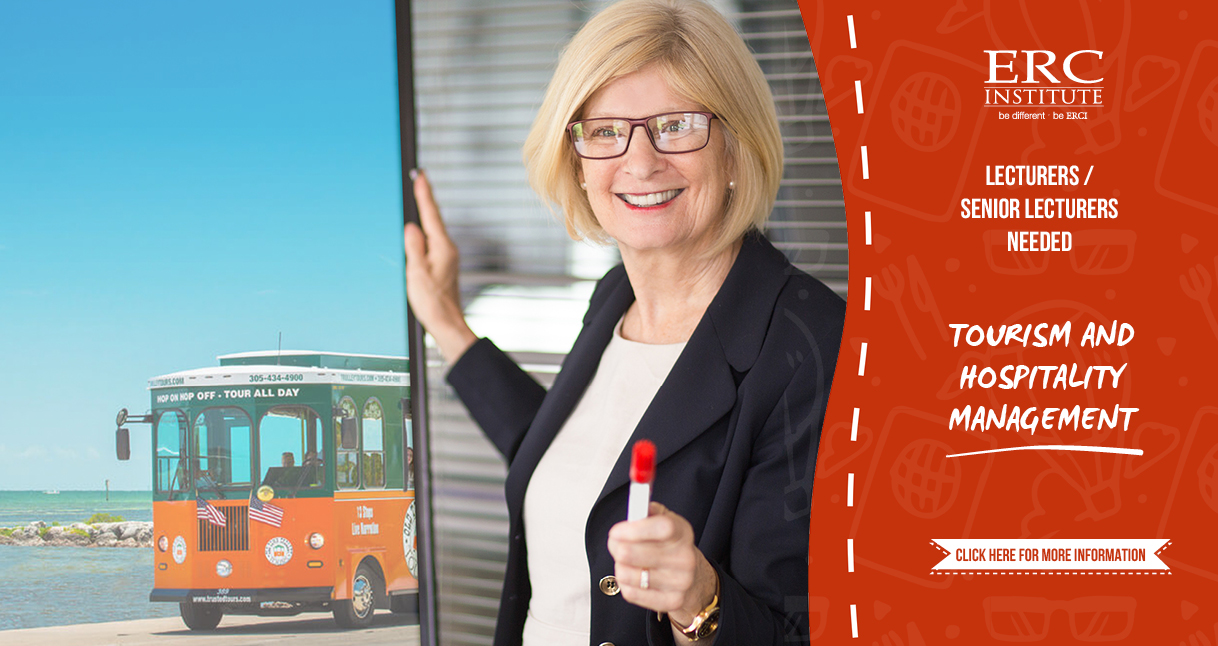 LECTURERS / SENIOR LECTURERS NEEDED AT ERC INSTITUTE – Tourism and Hospitality Management
At ERCI, we are looking for passionate educators who can deliver their real-world business knowledge to the students.

ERC brings the market place into the classroom. Today, we no longer rely purely on textbook education but we need professionals with industry exposure. If you have international experiences in the Hospitality and Tourism field, we need you!

With your knowledge and working experience you can deliver the following to our students:

Transfer your best practices and insights to students
Benefit their growth in today's competitive THM environment
Build relationship with industry partners to share their knowledge in the classroom.

Job Description:

Ability to teach tourism and hospitality as well as other business management discipline areas.
Lecture, tutor, mentor, facilitate students and supervise final project dissertations across business management discipline areas.
Develop strategies to facilitate and deliver an outstanding student experience in business management subjects.
Liaise with academic and professional staff with University partners and internal academic staff in delivery of courses.
Conducts and develop professional short courses, as determined by the school as part of professional programmes.
Work and create effective relationships with reporting manager and school's diverse internal and external stakeholders.
Link, actively engage and build industry partner relationships and bodies to enhance student learning experience and the school's unique positioning in entrepreneurship education.
Participate actively in adopting new teaching pedagogy, able to develop and create innovative learning and assessment methods to enhance students learning experience.
Promote and implement industry relevance, digital pedagogies, networking and career development activities and initiatives.
Involve in extra-curricular activities either leading or supporting initiatives in the enrichment of student experience and school branding.
Represent and participate in the school's social and marketing events both internally and externally.

The ideal candidate will need to have:

Minimum a Masters Degree in business. MBAs are preferred.
Worked in a corporate entity at managerial or senior management level for at least 5 years and 3 to 5 years of good track record of delivery business programmes at Bachelor and Masters levels or equivalent.
Evidence of ability to adapt with entrepreneurial thinking to combine and balance collegial style with practical creative solutions that result in practical implementations of learning initiatives.
Strong passion to develop students' ability with co-curricular and extra-curricular activities and work collaboratively as a team to deliver student focused outcomes.
Strong interpersonal and relationship-building skills with ability to communicate clearly with all stakeholders to develop excellent relationships.
Willingness to participate as part of regional team of academic staff for regional deployment for teaching and school activities, when needed.
Understands business bottom-line needs, as well as academic operations efficiency and productivity
Knowledge of academic and corporate training environment.
Ability to conduct all lessons in English effectively.

Join us and send your CV to Mr. Alan Go at alan.go@erci.edu.sg.